Compare binary files with HexCmp!
What is HexCmp?
HexCmp is a perfect combination of hex editor and binary files comparison utility.
It will help you to:

view and edit binary files up to 2Gb long;
quickly search for binary/text patterns in files;
see differences between files highlighted with colors;

For more details and free trial version see HexCmp - binary file compare tool
How to get discount coupon for HexCmp?
If you are registered user of Compare It!, you are entitled to 30% discount when purchasing HexCmp. Just send us a message, specifying your registration name/email, and ask for coupon.
If you already a registered HexCmp user, you can get discount on Compare It! purchase.

To use your coupon, enter it in special coupon field during registration of HexCmp: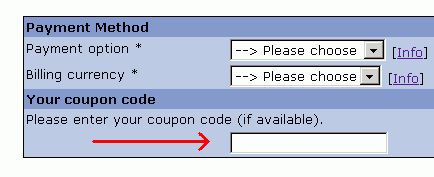 How to use HexCmp with Compare It!
| | |
| --- | --- |
| You can use Custom tools feature of Compare It! to add shortcut to HexCmp, as shown on picture: | |
| Now whenever you want to see binary comparison of files, currently loaded in Compare It!, just call HexCmp from Tools menu. | |
---
© 1996-2006 Grig Software. All Rights Reserved.